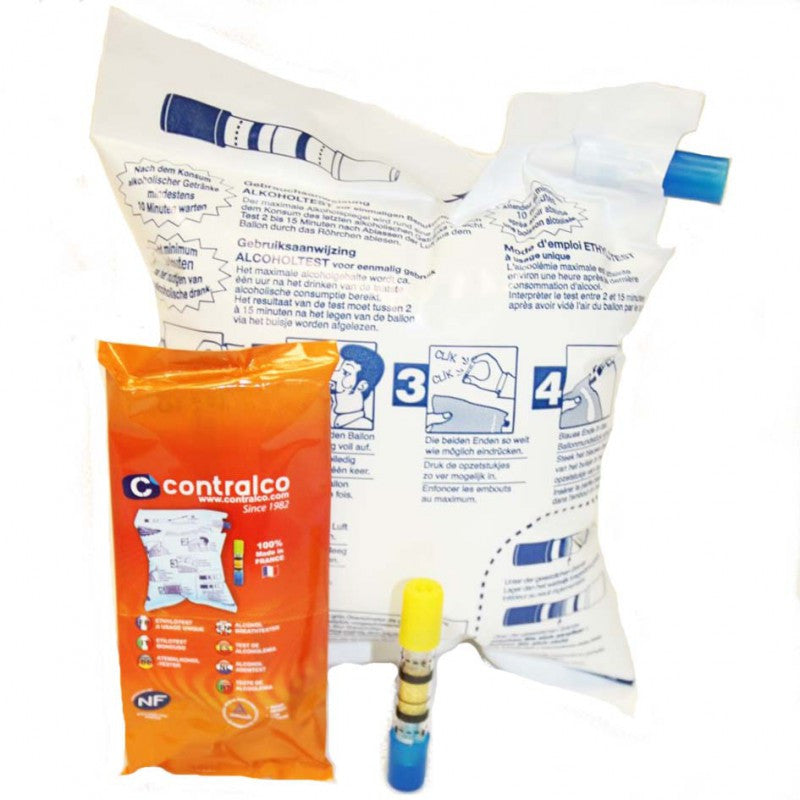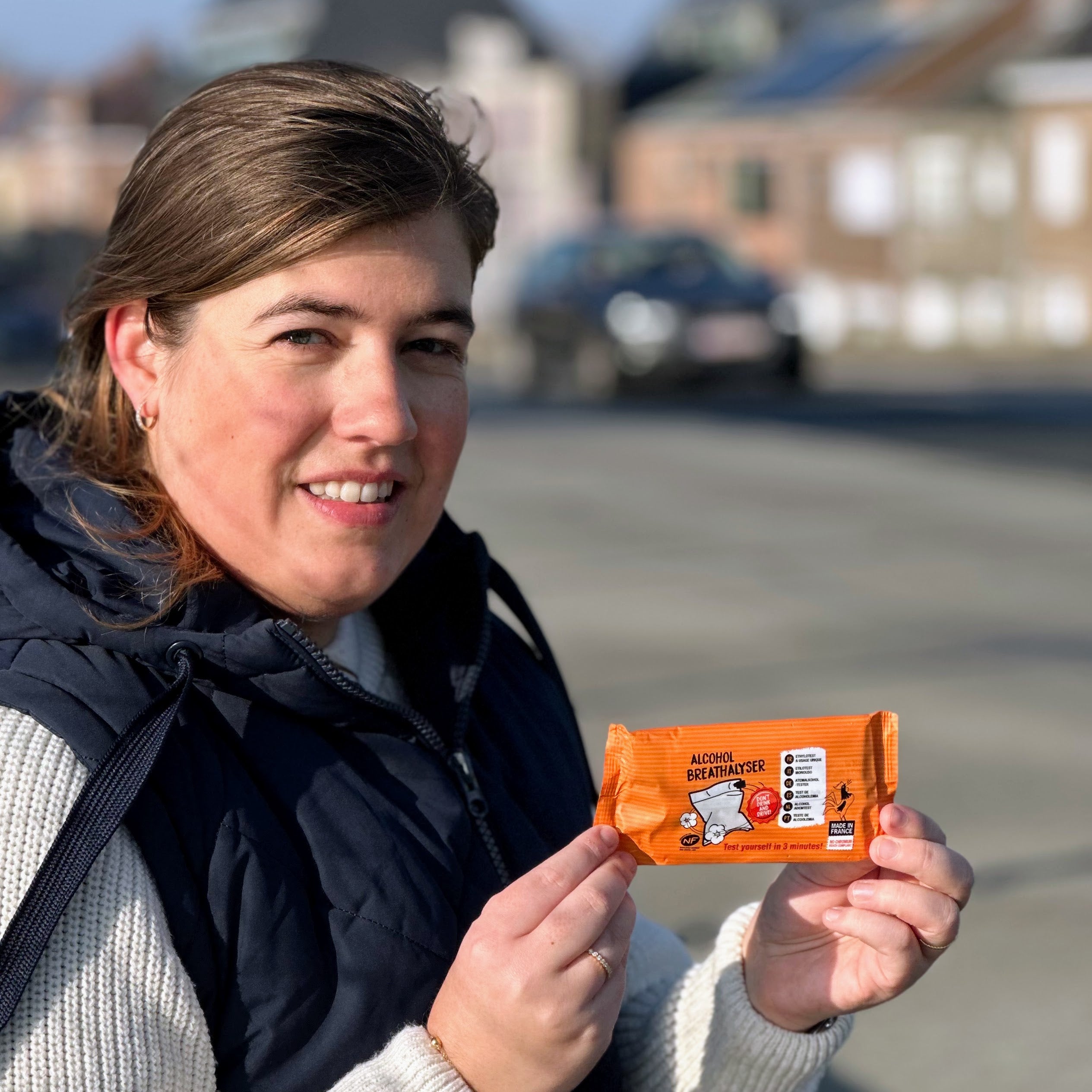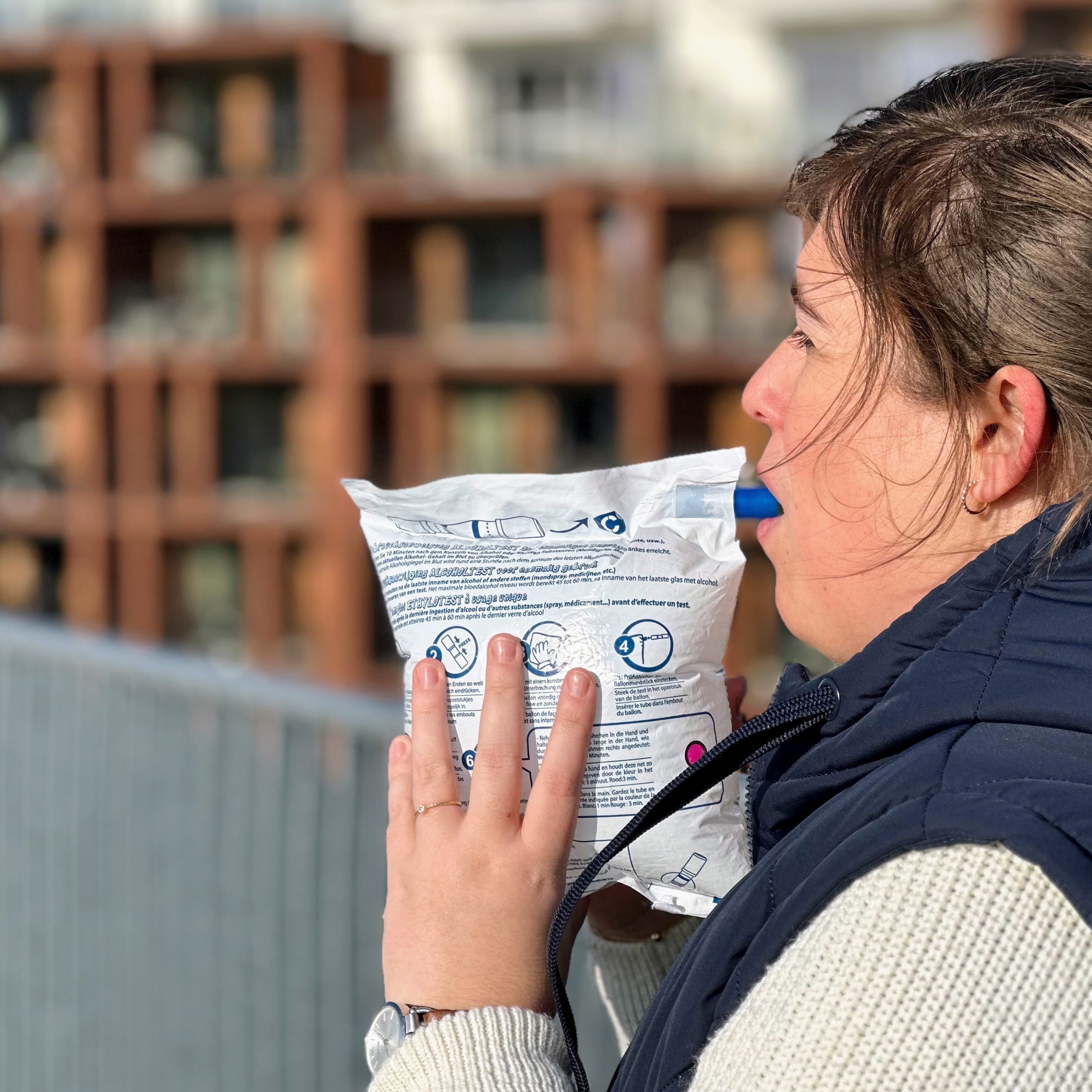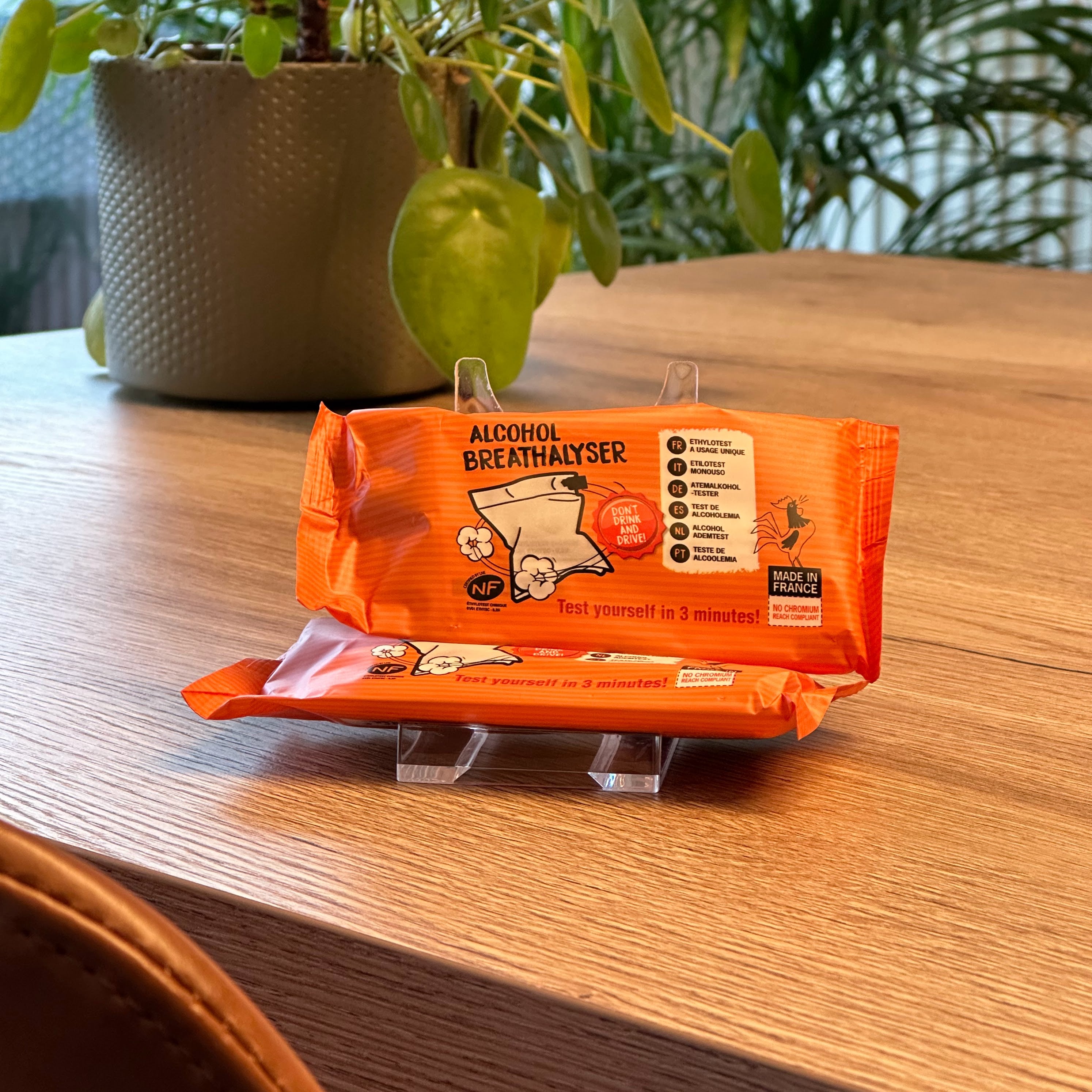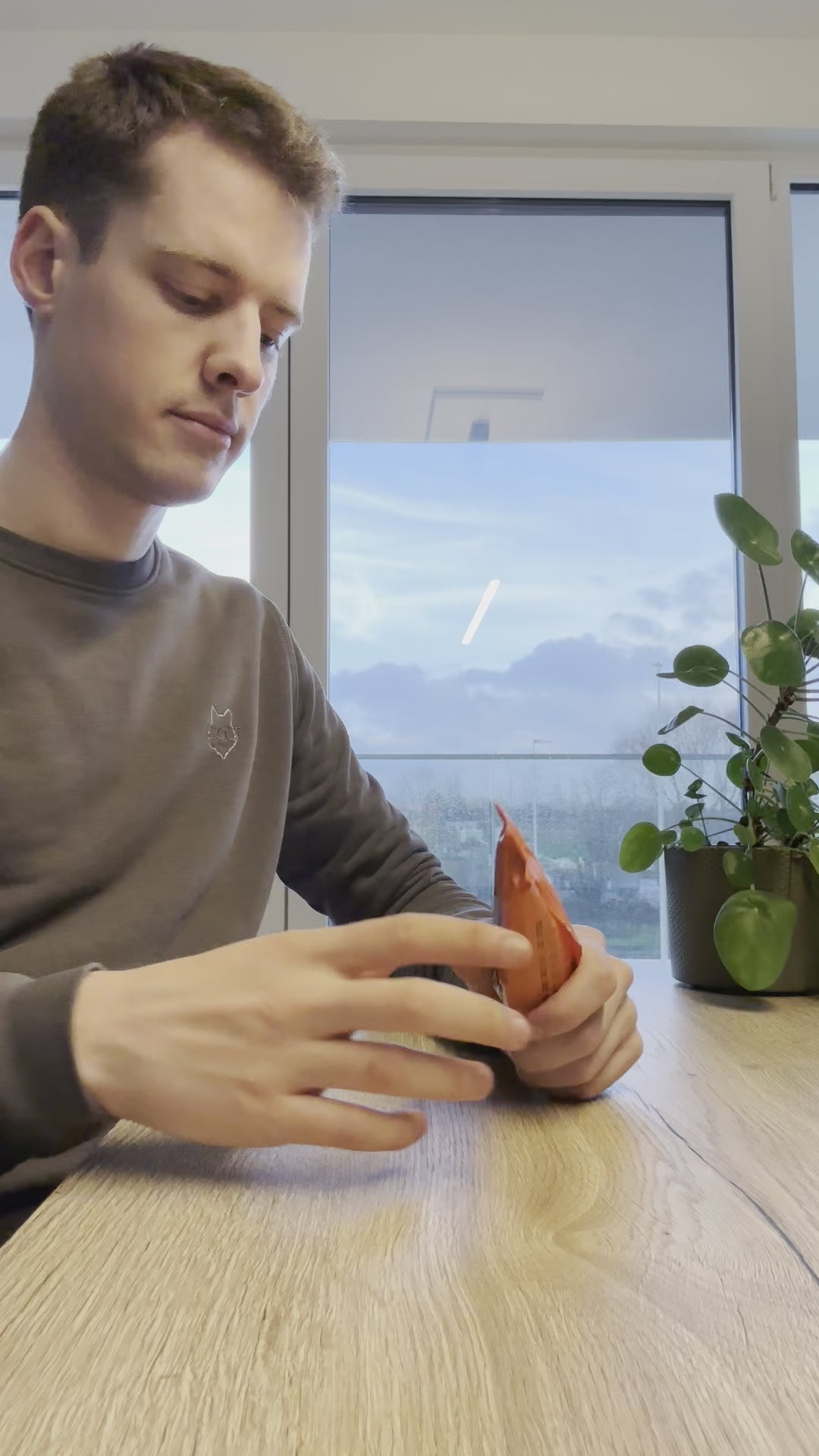 Disposable breathalyser - single use (per 5 pieces)
---
Disposable Alcohol Test or Single Use Ethylo Test (recommended to carry at least 2 pieces).
THE LAW STILL APPLIES IN FRANCE!
Limit : 0.22mg/l of exhaled alveolar air corresponding to 0.5 .
LeBallon works very simply: remove the tube from the edge of the balloon, inflate the balloon, compress the tube and connect it and push the air in the balloon through the tube. Within a minute you can read the result from the discoloration of the crystals. If the white crystals turn red, you are above the limit value. Even with very little discoloration.
The manufacturer Contralco specializes in the production of disposable alcohol testers and is the European market leader. In comparative studies by consumer organizations, LeBallon invariably comes out on top. This disposable alcohol tester is certified according to the latest strict French quality standards NF X 20-702 of 2014.
Why use Contralco's one-time test?
Accurate: certified according to NF 2014, very low margin of error
Reliable: no downtime, due to strict NF standards
Chromium-free: Since September 2017, every chemical alcohol tester must be REACH compliant. Contralco complies.
Hygienic and safe: single use only, individually packaged, no contact between user and crystal tube.
Inexpensive: Low purchase price, no maintenance or calibration required, no batteries required.
Easy to use: clear, simple instructions for use
Easy to carry: smaller than a pack of cigarettes.
Suitable for promotion: Can be personalized with your own message
Packaging French
Extra information
LeBallon is intended for both private and professional use. Customers using these disposable alcohol testers include police, hospitals, insurance companies, pharmaceuticals, oil companies, transportation companies, security firms, event organizers, department stores, auto centers, newsagents, gas stations etc.
Specifications:
| | |
| --- | --- |
| Product code | CONTR |
| Recommended users | companies and SMEs, cafes and restaurants, drivers, discotheques, doctors, liquor centers, festivals, the general public, hospitals and clinics, within the framework of the Collective Labor Agreement 100, youth movements, medical centers, organizers, parents, personal use, prevention workers, private persons of young to old, professional drivers, driving schools, schools, transport sector, demanding individuals, self-test |
| Brand | Contralco |
| BAC(Blood Alcohol Concentration) | no |
| Accuracy | no |
| blow time | blow up a balloon |
| Alarm level | 0.5 or 0.22 mg/l |
| Alarm signal | Visual Discoloration |
| Certificate | CE, NF |
| Colour | White |
| Sensor type | Chemical sensor |
| Guarantee | no |
| Auto Power Off | no |
| Nutrition | no |
| Pre workout | no |
| Batteries included | no |
| Low battery indication | no |
| Screen | no |
| Calibration | no |
| Dimensions | 18.5 x 23 cm |
| Free supplied mouthpieces | no |
| Made in | France |
| Display | no |
| Display language | no |
Why choose the expert in alcohol testers?
AlcoSafe.be
read more
This product has no reviews yet.
Er zijn verschillende redenen waarom iemand gevraagd kan worden om te blazen in een alcoholmeter. Dit kan gebeuren tijdens een verkeerscontrole, op het werk of zelfs in een privésituatie.